Talk About A Shocking Transformation! You Will NEVER Guess Which Actor This Is!!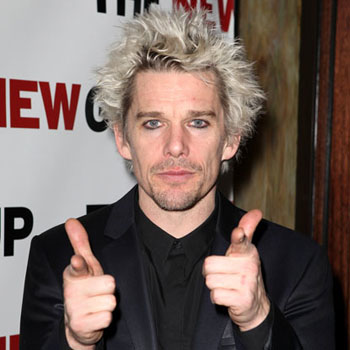 Some stars are willing to go to any lengths for a role – even completely transforming their look to a freaky extent!
At the opening night for the New Group World premiere of the play Clive in New York City on Thursday night, a certain critically acclaimed Hollywood hunk showed off his new and shockingly punk rock look for the Off-Broadway production – and RadarOnline.com has photos and the details about who he is.
Article continues below advertisement
Did you guess correctly?
Ethan Hawke, 42, looked completely unrecognizable as he walked the red carpet channeling his character, a down and out rock and roll star , with bleached out, spiky hair and kohl lined eyes.
"I didn't want to feel like me when I did this role," Ethan told the New York Times in January. "I'm trying to do that old-school, third person thing by unlocking something as utterly superficial as my hair. I was shooting for a Bowie thing, but then saw a picture of him after I did it, and he didn't really do his hair like this."