Inside The Dramatic Alabama Bunker Rescue, 'Please Don't Hurt Him, He's Sick,' Begged Kidnapped Boy's Mom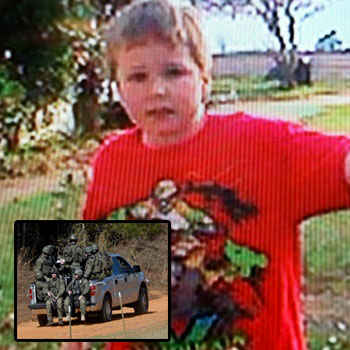 As the 5-year-old boy who was rescued after spending a week at the hands of a murderous madman is reunited with his family and happily playing with his toy dinosaur, new details of the underground hell he endured are emerging.
Ethan, whose last name has not been released but has been confirmed as suffering from Asperger's Syndrome, has not revealed much about his traumatic ordeal to his family yet, said his aunt, Debra Cook, who is just happy to get "little buddy" back.
Article continues below advertisement
As RadarOnline.com previously reported, 65-year-old Jimmy Lee Dykes ambushed a school bus on Tuesday in the rural town of Midland City, Alabama, shooting the driver, Charles Albert Poland Jr. dead, and snatching the young boy before holing him up in an underground bunker.
The tense standoff came to an abrupt end on Monday when through the use of big-tech cameras inserted into the 6-by-8-foot make-shift prison, police became increasingly concerned by the kidnapper's erratic behavior and decided it was literally time to pull the trigger, reported ABCNews.com, with FBI special agents positioned near the entrance of the bunker using two explosions to gain entry at the door and neutralize Dykes.
"Within the past 24 hours, negotiations deteriorated and Mr. Dykes was observed holding a gun," explained FBI Special Agent Steve Richardson. "At this point, the FBI agents, fearing the child was in imminent danger, entered the bunker and rescued the child."
Authorities have not yet said whether the Vietnam War veteran with a history of violence killed himself or was taken down by agents in the fiery ambush, which is expected to be revealed after the FBI send a "shooting review board" from Washington to look into the incident.
Article continues below advertisement
"I heard a big boom and then ... I believe I heard rifle shots," neighbor Bryon Martin, who owns a home near the bunker, told CNN, adding that the noise "made me jump off the ground."
Due to the delicate nature of the situation, rescuers created a "mock bunker" near the rural property where agents trained for different scenarios to get Ethan out safely. Officers had been communicating with Dykes through a 60-foot-long plastic ventilation pipe, passing down food, medication and coloring books to the boy, but it had been getting increasingly "tough to negotiate and communicate" with the troubled man.
They had hoped to get both Ethan and his abductor out alive, especially as the boy's mother begged police for mercy.
"She put her hand on the officer's heart and said, 'Sir, don't hurt him. He's sick,'" State Sen. Harri Anne Smith said Monday. Over recent days, his mom became so distressed that she had to be heavily sedated to cope with the stress, but is now relieved to be reunited with her son, who is expected to be released from the hospital in time for his sixth birthday on Wednesday.