Beyonce Shines Behind-The-Scenes After Critically-Acclaimed Super Bowl Halftime Show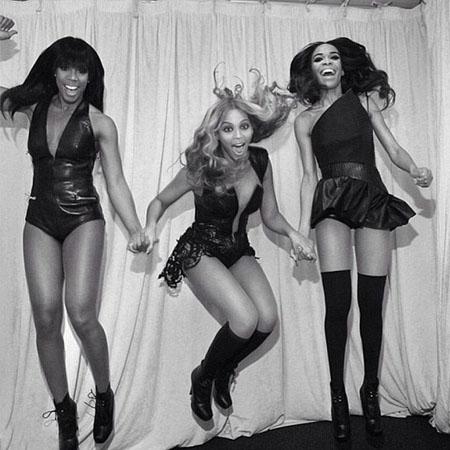 Beyonce was all smiles backstage after her well-received halftime show at Sunday's Super Bowl in New Orleans, and we've got the shots for you right here on RadarOnline.com.
The 31-year-old Houston native embraced her hitmaker hubby Jay-Z following the banner outing, which included a reunion with her Destiny's Child colleagues Kelly Rowland and Michelle Williams.
In one shot, the mother-of-one has a smile on her face as she runs down a hallway holding a large coffee.
Article continues below advertisement
Make-up artist Joanna Simkin posted the pictures online, where many prominent personalities had gushing reviews of the singer's show, among them first lady Michelle Obama.
She wrote, "Watching the #SuperBowl with family & friends. @Beyonce was phenomenal! I am so proud of her! -mo."
Other congratulatory tweets to Beyonce included:
Husband Jay-Z: "Lights out!!! Any questions??"
Justin Timberlake: Yes, B. Yes. Roasted that… #KINGBEY.
Carrie Underwood wrote: "…and @Beyonce just made all the rest of us singers look stupid! In the most awesome way possible! Way to work it! #BestEverHalftimeShow"
Kelly Ripa: "This is the BEST BEYONCE CONCERT I've ever seen!!!!! #crazyinlove!!!!"
The X Factor's Demi Lovato: "I just really don't think Beyonce is human... Also YAY for Destiny's Child!!"
Alicia Keys: "Beautiful note from @beyonce!! Big Love 2 @KELLYROWLAND & @realmichelleW 1 of my Favorite parts of the show!!! Still on 10!! #SB47 ;-)"