Superdome Lights Go Out After Beyonce's Super Halftime Show!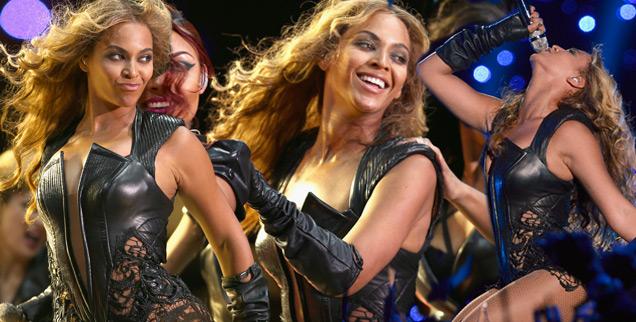 Beyonce knocked it out of the park with her Super Bowl Halftime show. And the Superdome saw its lights knocked out for about 35 minutes at the start of the second half.
In a bizarre situation, the lights at Mercedes-Benz Superdome went out just as the second half was about to start. But that game delay just left for more time for fans to talk about Beyonce's fantastic show.
Sizzling in a leather leotard with lace skirt and knee high socks with heels she was all singing all dancing for the sporting extravaganza in New Orleans.
Article continues below advertisement
Adding to the excitement the superstar performed with her former bandmates Kelly Rowland and Michelle Williams for a highly anticipated Destiny's Child reunion.
The 72,000 strong crowd was lit up with blue lights as everyone attending waved the 'finger flashlights' that were left on their seats at the stadium in preparation for her performance.
Belting out some of her greatest hits the superstar channeled her alter-ego Sasha Fierce as she wowed the crowds for the spectacular show.
Alicia Keys kicked off the event - in which the San Francisco 49ers faced off against the Baltimore Ravens - with a rendition of the national anthem.
Jennifer Hudson also performed an emotional America the Beautiful to conclude the pre-game show. She was joined by 26 children from the Newton, Connecticut school were a mass shooting took place on December 14.