Soon-To-Be Divorced Bethenny Frankel Ditches Hubby - And Her Makeup - In New York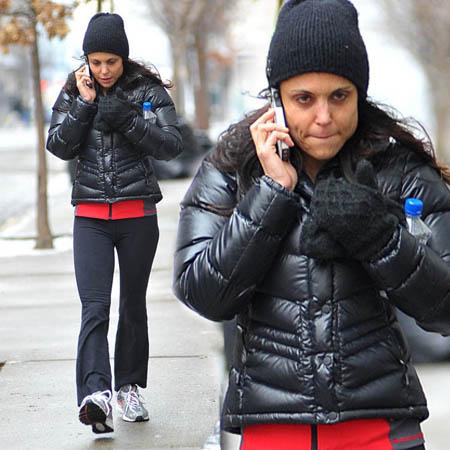 With a divorce battle underway and a determined look on her face, Bethenny Frankel stepped out make-up free in her native New York City Tuesday, and we've got the photos for you right here on RadarOnline.com.
The reality TV star turned mogul wore a black beanie, puffa jacket and tight workout pants as she carried a water bottle and talked on the phone on the chilly New York day.
The former The Real Housewives of New York star, 42, wore a gloomy look in the wake of our exclusive report that her estranged husband Jason Hoppy is battling to turn her walk-in closet, in their 3,400 square foot TriBeCa apartment, into his man cave.
Article continues below advertisement
"Jason thinks the closet is just ridiculous and it doesn't fit well into the overall floor plan of the apartment," a source told us exclusively. "When they were still together, Jason once accused Bethenny of loving the closet more than him.
"She is obsessed with material objects and her personal relationships have often suffered because of it. Jason has vowed to immediately tear down that damn closet and turn it into a man cave if he is given the apartment as part of the divorce settlement."
The source added that at this time Hoppy "doesn't have a single space in the apartment that is his.
"Bethenny has her SkinnyGirl offices set up there and she spends a great deal of time in her beloved closet. She calls it her perfect hideaway where she can spend hours at a time staring at her racks and racks of designer handbags and shoes."