From The Cradle To The Rave! Mom Takes 4-Month-Old Baby To Boozy Drum & Base Nightclub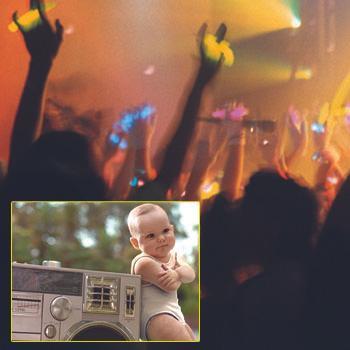 Ravers at a North Wales nightclub weren't hallucinating recently when they saw a tiny baby amid the flashing lights and ear splitting drum and base tunes!
A 41-year-old woman, named Sarah-Jane Hulme, not only admits - but even defends - taking her 4-month-old son Django to the Aberystwyth nightclub, adding it is actually the THIRD time in his short little life that she has taken him to a club and that, "I don't think I've been irresponsible at all.
Article continues below advertisement
"I breast-feed him so he has to be with me," Hulme told The Sun as way of explanation. "In France or Spain, parents are encouraged to take their kids to music festivals."
Hulme, who said she gave her son earplugs to wear, claimed police searched her for drugs, but made no mention of the baby, as she entered the venue, where she went to watch another one of her children perform on stage.
"My daughter Kerry was performing with her band in her home town for the first time and I wanted to be there," she said. "What's wrong with that?"
After several complaints from Hulme's fellow ravers, police apparently found something wrong with it eventually - and stopped the music at around 12:30 a.m. to question her.
However, according to The Sun, Sarah-Jane and little Django managed to slip out of the club without speaking to the cops.
A DJ at the scene called Hulme's questionable parenting decision "some irresponsible s***," and she has taken even more flak online as the story circulated, though she refused to acknowledge the error of her ways.
"I couldn't leave him with anyone, as he needs to be breast-fed every couple of hours," she explained in her defense. "I don't think I've been irresponsible at all."
Meanwhile, police are consulting with social services regarding the incident.
As RadarOnline.com previously reported, former Cheers star Kelsey Grammer raised eyebrows himself last fall after taking his 3-month-old baby daughter to a Halloween party at the Playboy Mansion.