Thanksgiving Stuffing Honey Boo Boo Style! You Won't Believe Mama June's Artery-Clogging Holiday Menu!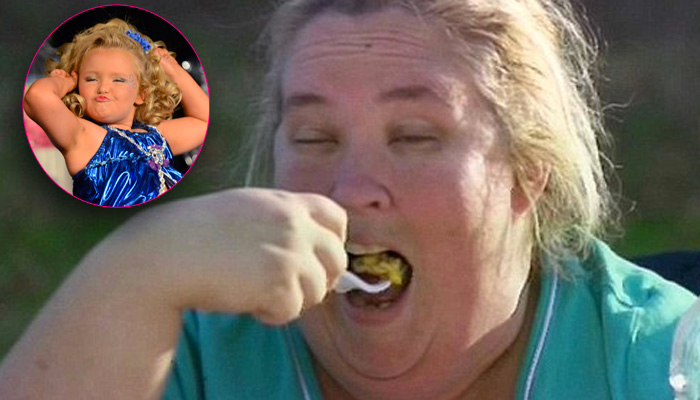 Thanksgiving is all about stuffing yourself full of good food, and Honey Boo Boo's family is just like everyone else in America when it comes to pigging out over the holidays.
Larger than life mama, June Shannon, made sure her family had enough food to eat on the Thanksgiving holiday special of Here Comes Honey Boo Boo, serving up an artery-clogging menu of 15 cans of vegetables, 12 cans of cranberry sauce and a large turkey coated with a gallon of butter.
Article continues below advertisement
"I'm not no Martha Stewart or Betty Crocker or nothing like that. It's going to be what it is and hopefully something turns out right," Alana "Honey Boo Boo" Thompson's mother tells her grateful family.
As sage as ever, June explains that her cranberry sauce has two benefits for her girls.
"They get their fruit, plus they don't get a urinary tract infection," she says.
Honey Boo Boo Child is a big fan of her mama's cooking, and helps out in the kitchen for the holiday.
"Cranberry jelly is the most perfect food. It's just the perfect color," she says. "Can shape food is the most perfect food for eating. This is the food of the gods."
Here Comes Honey Boo Boo holiday episodes are airing on TLC with a clips special next on February 10 and a Christmas special on February 17 at 9 p.m. EST.
RELATED STORIES:
They're Baack! Here Comes Honey Boo Boo Returns With Mama June's Greatest Fear!