Park Ave Princess, Who Once Flew To Paris Just To Buy Nail Polish, Sobs About 'Poor Life' After Daddy Cuts Her Off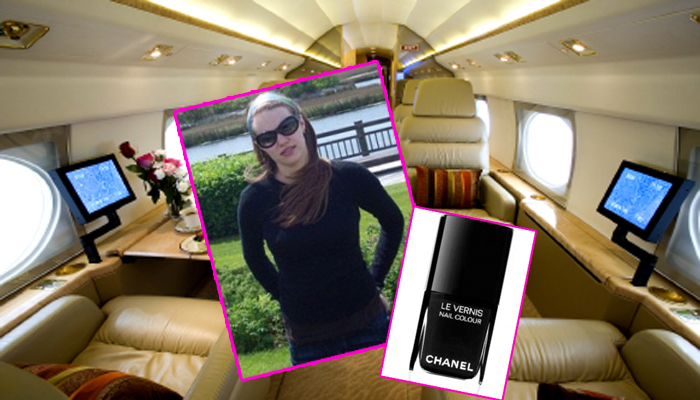 Your heart will bleed for this poor little rich girl!
Sutton Van Brigsby, who started the blog Sobbing On Fifth with her sister Astor detailing their horrifying riches to rags transformation after their mega-wealthy father cut them off and ….. Horror!….forced them to get jobs, opens up about her privileged past to RACKED in a new essay, which included flying to Paris just to buy a specific color of Chanel nail polish – and RadarOnline.com has the details.
Article continues below advertisement
Sutton, who now works in "beauty" explains that her childhood revolved around shopping and such luxuries as floor seats to the Knicks game, last-minute tables at Per Se and discontinued Hermes perfume.
"Shopping was more than just a hobby growing up: it was a reaction. Made the honor roll at school? Let's celebrate with a trip to the shoe department at Barneys. Broke up with a dreamy boy after nine months? Let's wallow by padding around the second floor of the Miu Miu store on Fifth. (One particular breakup was so bad that mom decided I could never be seen in the same clothes again, as any outfit ran the risk of bringing up the bad memories. I finally obtained my long-coveted Rick Owens jacket thanks to that particular trauma.)
"What's always been great about mom and dad is that they understood how dire the need for certain items was," she continues.
"Like the Chanel Black Satin nail polish crisis when I was in college. You remember—Chanel's perfect, silky black polish sold out everywhere, and dad understood that owning a bottle (or six) became more and more necessary to my survival with each passing day. When all of my efforts to track down a bottle here failed (even with dad's connections!), he flew me, with a faithful shopping companion, to Paris, so I could continue the hunt there. Galeries Lafayette, Printemps, the Chanel boutiques on Rue Cambon and Place Vendôme ...I found it. Don't ask how, just know I did."
Article continues below advertisement
Unfortunately, daddy cut his little girls off at 21 and gave them the "you need to figure out what you want to do with your life" talk, forcing them to get jobs and exchange shopping at Bergdorfs for pawing through the racks of cut price sample sales, something that horrified their Park Avenue mother.
"The first time I proudly displayed my spoils from a sample sale to my mother, she recoiled in horror. 'How many people do you think tried that on? You don't know where it's been,' she shuddered, as if my gorgeous Alexander Wang FW10 runway dress was a candy I'd found on the street and was about to pop into my mouth with reckless abandon."
But despite being cut off, Sutton and Astor seem to make do, thanks to the connections their parents attained for them when they were kids.
"Nowadays, I have to work to afford my shopping sprees—sometimes life just throws you a curveball. But I'm still grateful to mom and dad for all the connections I have. I can still get some of my favorite stores to hold the last Eddie Borgo cone bracelet for me, or greet me with a glass of champagne. If there's one thing my childhood of shopping taught me, it's that these are the things that truly count."