She's No J.Lo! Heidi Klum Has No Cougar Instincts, Could Not 'Deal With Waking Up Next To A 25-Year-Old'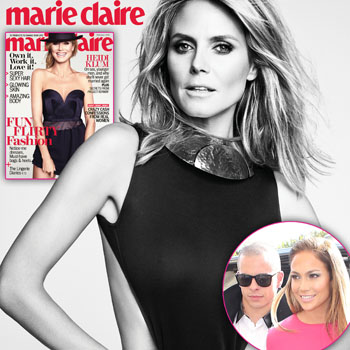 Heidi Klum may have a less than professional relationship with her bodyguard, but you will never catch her in bed with an inappropriately younger man!
In a new interview with Marie Claire, the Project Runway bombshell reveals that though she is attracted to younger men and their hot bodies, that unlike some of her peers, she has absolutely no cougar instincts, and RadarOnline.com has the details.
"I can understand why a woman finds a young man attractive, because the truth is that when men get older, their shape changes," the 39-year-old sex symbol admits.
Article continues below advertisement
"Younger men train more, and when the clothes come off, it is nice to look at a sexy, ripped body. But I am realistic. I'm turning 40 next year; I don't think I could deal with waking up next to a 25-year-old."
Klum declined to talk about her relationship with her bodyguard of four years, Martin Kirsten, in the interview with the fashion magazine, though did admit that her divorce from Seal isn't as tragic as everyone makes it out to be.
"People say, 'Oh, God, how devastating to go through a divorce.' Did I wish for this to happen to my family? No. But everyone is healthy; we're moving on with our lives," Klum explains.
"If someone got very sick, God forbid, that would be a real problem. It's not what I wanted – it's not what anyone wanted – but it's not a real problem."
To read more on Heidi Klum, pick up the February 2013 issue of Marie Claire, on newsstands Tuesday, January 15.