What A Yarn! Ryan Gosling's Secret Talent: He Loves To Knit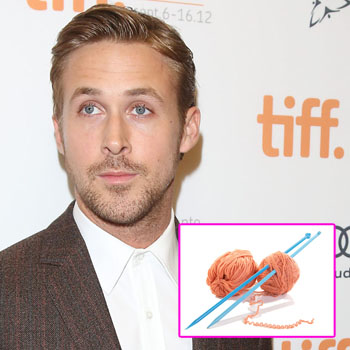 Article continues below advertisement
"And you get something out of it at the end. You get a nice present. For someone who wants an oddly shaped, off-putting scarf."
And Gosling told the men's lifestyle magazine that it was his nerdy obsession with the movie Dick Tracy that influenced him in choosing to star in Gangster Squad.
"It was fun," he says.
"When I was a kid I was kind of obsessed with that movie Dick Tracy. Burger King had all this Dick Tracy stuff and I collected all of it, and I had the posters and I watched it on a loop.
Obviously this is a very different movie, but it seemed to have some of the sensibilities of that. So that was fun for me."
And it seems that Ryan Gosling's performance has caused some other celebrities to become all worked up especially including Anna Kendrick.
In a racy tweet on Monday, the Pitch Perfect actress made a rather startling admission.
She wrote: ""Ugh - NEVER going to a Ryan Gosling movie in a theater again," she wrote. "Apparently masturbating in the back row is still considered 'inappropriate.'"