Ryan Gosling: Behind The Scenes Of His New Movie Drive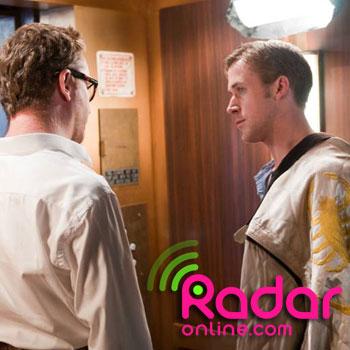 By Alexis Tereszcuk - Radar Senior Reporter
Ryan Gosling is back on the big screen as a brooding loner in the upcoming adrenaline film Drive and RadarOnline.com has an exclusive sneak peek of him on set filming the action flick.
Starring with the lovely Carey Mulligan, Gosling gets dragged into a dangerous criminal underworld where he shows off his driving skills while battling the deadly elements of the dark world he's entered.
Article continues below advertisement
He has said that this is his super hero movie.  "This is the one. I wanted to make this one. I didn't always know I was gonna get to make it, but I did," Gosling told Rotten Tomatoes.
The soundtrack features original music by Cliff Martinez who spoke about the influence of music in the film.  "I wasn't entirely aware of how much the sound department was going to impact the dramatic character of the film but I got a strong whiff of it in early cuts," said Martinez. "At the same time Nicolas Refn, director was asking me to create some things that functioned in the same way as music but was not what most people would actually consider music.
"So I was the meat in the middle of a soundtrack sandwich. My goal was to create a seamless flow between the songs, the score and the sound effects."
Drive hits theaters Friday, September 16.
Watch the sneak peek on RadarOnline.com below: