Ryan Gosling Is A Bird's Best Friend, Wants To Save Chickens From Painful Deaths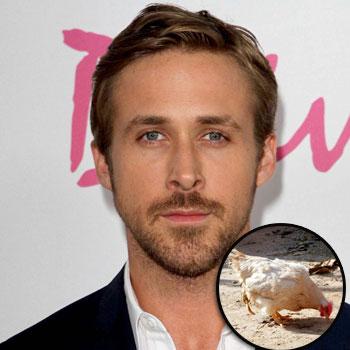 Ryan Gosling is working with PETA to try and ban a bizarre method of putting down sick chickens and turkeys.
The Notebook star, a well-known animal lover, wrote a letter to the U.S. Department of Agriculture on behalf of PETA, taking on slaughterhouses who use an approved method of euthanizing diseased chickens and turkeys.
The USDA now allows an excruciatingly slow and painful method -- submerging the birds in foam to suffocate them!
Article continues below advertisement
"If dogs and cats were killed in this way, the person committing these acts would be charged with cruelty to animals," Gosling wrote to the USDA. "Won't you please ban the foam-based suffocation practice immediately?"
Gosling is not a newbie at tackling animal rights issues. Last year he wrote to the CEO of Kentucky Fried Chicken, asking that the restaurant chain impose humane farming practices on the suppliers of its chickens.
His latest action pic, Drive, opens September 16.
RELATED STORIES: