Exclusive
Rosie Huntington-Whitely Tells Jason Statham To Lay Off The Partying Or Face Losing Her!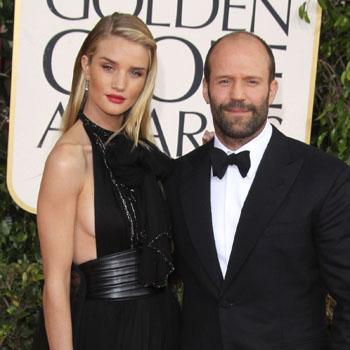 Article continues below advertisement
"She thinks his friends are a bad influence on him, and she doesn't like it when he gets wasted."
And a close pal to the pair has exclusively told RadarOnline.com that Rosie has warned Jason, 45, that he will lose her if he continues his partying ways!
"When he first started dating Rosie, he curtailed his wild nights out to spend time with her because he wanted to give the relationship a chance," the source said.
"But more recently, Jason's been having nights out with the boys and not returning home to the early hours of the morning, which infuriates Rosie.
"So, she put her foot down and told Jason that if he's serious about her he has to curb his partying or she will leave him.
"Their relationship is really hanging on by a thread at the moment," the pal divulged.
As RadarOnline.com previously reported, Rosie was spotted flirting with hunky Dutch actor Soren Hojen at hip Hollywood hangout Sayer's Club back in October.
"She wouldn't stop staring at him. She was obviously trying to get his attention -- moving her hips and running her hands through her hair. But he still wasn't noticing her. So she ordered her friend to go up to him and tell him that Rosie thinks he's cute," an eyewitness said.
"The friend obliged, and when Soren looked up to see who the friend was referring to, his eyes practically popped out of his head! Rosie smiled, but then Soren said he had a girlfriend, and went back to his friends."