Scary Skinny Rosie Huntington-Whiteley 'Way Underweight' Nutritionist Warns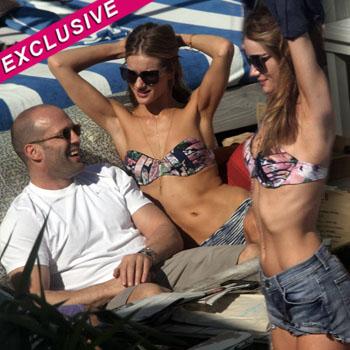 A leading nutritionist has warned that Rosie Huntington-Whiteley has lost too much weight and believes she is now barely 100 lbs.
The 24-year-old model turned actress was pictured lounging poolside with boyfriend Jason Statham in Miami recently wearing a floral bikini that revealed her concave stomach and protruding rib bones.
"She is way underweight for 5' 9"," Dr. Majid Ali, who has not treated Rosie, told RadarOnline. "She can't be more than 100 lbs."
Article continues below advertisement
Although Rosie's model card says she is a size 4, Dr. Ali says she appears to be much smaller.
"Size 0-1 makes way more sense than a 4," he said in his expert opinion although he doesn't think that the British starlet has a serious eating disorder.
"Although underweight, I have to say she doesn't have that emaciated look as a binge purge person has. But she and salads and two meals a day must be best of friends."
MORE ON:
Rosie Huntington Whiteley
Rosie underwent a strict diet and exercise program to get ready for her breakout role in Transformer: Dark Of The Moon and cuts a substantially leaner figure than she did a year ago when she was curvier and had a fuller face.
She has admitted that she is obsessive about keeping slim and has a personal trainer waiting for her in different parts of the world.
"It takes lots and lots of hard work. I have three personal trainers – James Duigan in London, Jason Walsh in Los Angeles and my friend Justin in New York," she revealed to Grazia magazine. "That means there's no excuse not to be in the gym wherever I go."