Exclusive
Say It Ain't So, Joe! Jonas Blows Off Fans, Refuses Photo & Tells Them, 'Get Out Of Here!'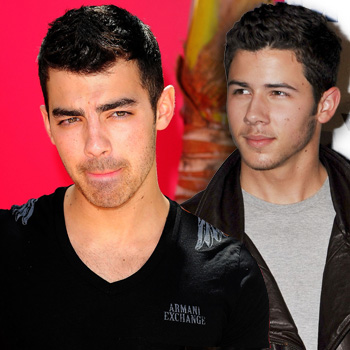 The Jonas Brothers have made millions and had great success because of their fan following, but one long-time fan had a run-in with Joe and Nick Jonas and exclusively tells RadarOnline.com the brothers were anything but friendly and thankful for their fans.
According to college student Andy Hertfeld, he was with a group of friends late Saturday night when they spotted Joe and his girlfriend Blanda Eggenschwiler standing outside Sauce restaurant in the Lower East Side of New York City and decided to approach them.
Article continues below advertisement
"As we were walking closer we saw that he was smoking a cigarette with Blanda, and the minute he saw us walking closer he threw it down. After we approached him, he shook his head no," Andy, 19, exclusively told RadarOnline.com.
"It was late, which we understood, but my friend asked for a picture anyway. That's when Joe flipped out on us he said, 'We do so much for you. We do everything and you want a picture? Get out of here.'
"My friend was in tears."
Even worse, Andy said Joe was with a group of friends — one of which proceeded to mock them right to their face.
"One of his friends, a tall girl with short brown hair, started making fun of us," Andy said.
"She was going on and on about my friend saying, 'Is he going to cry now?' and Joe just laughed right in our faces."
At that point Andy told RadarOnline.com that Nick came out of the establishment and headed straight for their SUV to avoid the fans.
Article continues below advertisement
"He didn't even stop or look in our direction," Andy said.
"The entire thing completely broke my heart."
Andy told RadarOnline.com he's been a huge Jonas Brothers fan since 2006 — and is even majoring in music management because the boy band has been such an inspiration to him — paying upwards of $750 for concert tickets on numerous occasions.
"I was always one to stand up for him towards haters, but now I'm starting to see what they mean by his attitude since he's been surrounding himself with certain people. Smoking now? I remember last year when he said he was completely against it!" he said.