Holly Madison Pulls A Demi! Bares Her Baby Bump For Maternity Shoot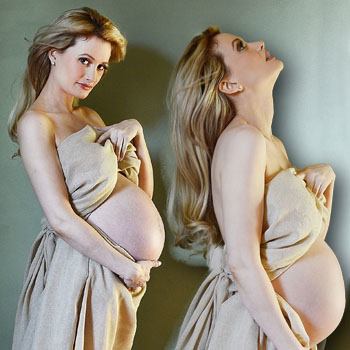 They say imitation is the best form of flattery, so Holly Madison is probably a huge Demi Moore fan.
Holly bares her baby bump, a la Demi in a revealing new maternity shoot.
PHOTOS: Holly Madison Bares Her Baby Bump
Playboy Playmate Holly is certainly not shy when it comes to showing skin.
But the 33-year-old remained mostly covered during her glossy shoot, showing only her bare belly.
The former Girls Next Door star strikes an ethereal pose, with a sheet-like dress wrapped around her body.
Article continues below advertisement
With her long, blonde hair styled in loose waves and her make-up perfectly applied, Holly gently pulls the sheet to the side to reveal her bare belly.
She even strikes a pose similar to the one Demi pulled of on the cover of Vanity Fair in August of 1991.
At the time Moore was seven months pregnant and raised eyebrows by appearing nude in her delicate state.
Holly, also seven months pregnant, is expecting her first child with boyfriend and party promoter Pasquale Rotella.
The blonde starlet found fame as one of Playboy boss Hugh Hefner's girlfriends in the reality series Girls Next Door.
After departing Hefner's world, Holly landed a gig starring in the burlesque Peepshow at Planet Hollywood, Las Vegas.
She left the show back in October and was replaced by Coco Austin.
There's no word on what Demi thinks of Holly's new photo spread, but probably she has more important things on her mind, like her divorce from Ashton Kutcher.