Aloha! Frankie Muniz & Fiancee Enjoy Romantic Hawaiian Getaway After His Mini-Stroke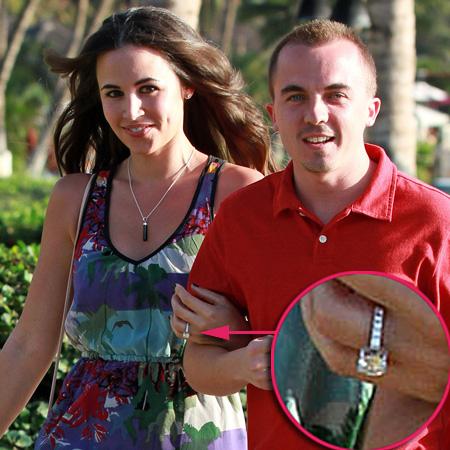 Frankie Muniz looked in good health as he enjoyed a romantic stroll in Hawaii with his fiancée, Elycia Turnbow, on Thursday – more than a month after he shockingly suffered a mini-stroke at the age of 26, and RadarOnline.com has the latest photos of the former child star.
The Malcolm in the Middle star – who turned 27 only days after the incident - was seen flashing a smile with his publicist girlfriend, who wore a stunning engagement ring as they soaked up the sun in laid-back Maui.
Article continues below advertisement
The couple – who's had a rocky relationship in the past – strolled the boardwalk from the Four Seasons to a local luau, with Elycia wearing a pretty tropical print dress, while Frankie went more casual by opting for a red polo shirt and grey cargos pants.
As RadarOnline.com previously reported, Muniz suffered his mini-stroke on November 30 – five days before his 27th birthday.
"I was in the hospital last Friday. I suffered a 'Mini Stroke', which was not fun at all," he tweeted a few days after the incident.
"Have to start taking care of my body! Getting old!" Muniz added.
Frankie later explained on Good Morning America that he couldn't speak simple words after suffering the mini-stroke.
I couldn't say words. I thought I was saying them, and my fiancee was looking at me like I was speaking a foreign language," he said.
Muniz explained to GMA he was riding his motorcycle in Phoenix, Arizona when he suddenly lost his vision in one eye and his body became numb.
Article continues below advertisement
He says he thought he had a bad headache, but after undergoing tests at a hospital, doctors discovered he suffered a mini-stroke.
It's very unusual for a man under the age of 30 to suffer a stroke, especially in Muniz's case, since he's lived such a healthy lifestyle.
"I've literally to this day never had a sip of alcohol in my life. I've never had any drugs. I've never even smoked a cigarette," Frankie said.