Cryptic Tweet Leaves Fate Of Sister Wives In Doubt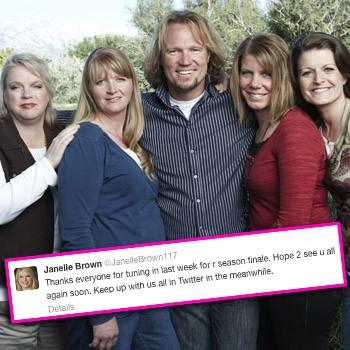 Have we seen the last of TLC's Sister Wives?
A tweet from Brown family member Janelle over the weekend cast a degree of doubt over the fate of the popular TLC series, which documents the ongoings of the 22-member polygamist family living in Nevada.
"Thanks everyone for tuning in last week for r season finale," Janelle tweeted late Sunday. "Hope 2 see u all again soon. Keep up with us all in Twitter in the meanwhile."
Article continues below advertisement
The show's official website and Facebook page are not currently advertising a fourth season of the show.
On the season finale -- which aired Sunday, December 30 -- the fate of the series was never broached, as the episode focused on family patriarch Kody Brown bidding adieu to his college-bound son, Logan.
We'll have the latest for you on Sister Wives as we learn the news right here on RadarOnline.com.