Bruised Lindsay Lohan Parties 'Til Dawn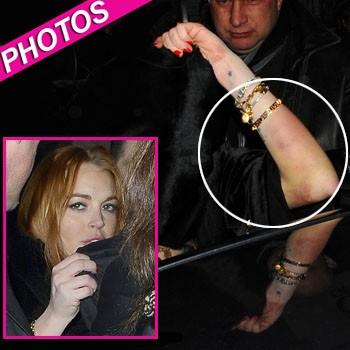 Lindsay Lohan didn't let a monster of a bruise on her right arm stop her from partying until dawn in London Saturday morning.
A wicked bruise, seeming to be several days old based on its coloration, extends from her wrist to above her elbow.
Lohan did her best to keep it covered up with a long-sleeved wrap but it was on full display as she got into the car taking her from party to party Friday night into Saturday morning.
Article continues below advertisement
The party girl's night began with a late dinner at China Tang. She and her entourage then headed for the Mandarin Oriental Hotel where they stayed until 2 am.
Not content to call it a night, LiLo and her crowd made their way to an after-hours club called Base, reports the Daily Mail where they stayed until 5 am!
And as our pictures show, the Liz & Dick star turned camera shy at this point, putting her coat over her head as she left the club.
As RadarOnline.com previously reported, Lohan has been in London since before the New Year and was spotted out partying with her mom Dina on several occasions.
Lohan is facing a wall of troubles when she gets back to the U.S. The IRS is after her and she still has to go before a judge on a possible probation violation hearing.