Exclusive
Big Rich Atlanta's Really Big Drama! Kahdijiha Rowe Slams Ashlee Hawn Over 'Hair-Pulling' Assault Charges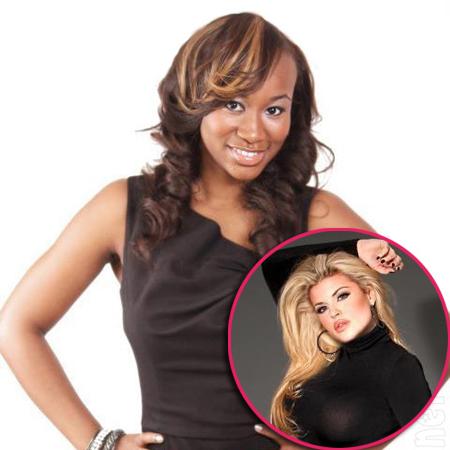 The cast of Big Rich Atlanta took cat-fighting to a whole new level last year when one of the reality show's stars quit after her co-star allegedly attacked her "ripping chunks of hair from her head, tearing her clothes and throwing her to the ground," and now the accused assailant is giving her side of the story exclusively to RadarOnline.com.
As we previously reported, model Ashlee Wilson Hawn filed charges against co-star Kahdijiha Rowe
Article continues below advertisement
, claiming she assaulted her on October 2 during her birthday party at the Havana Club in Atlanta.
"Ashlee was two feet from her and that's when Kahdijiha Rowe lunged, grabbed her ponytail and pulled it all the way down," a fellow partygoer told RadarOnline.com about the alleged attack. "She ripped off the left side of Ashlee's dress, pulled her hair out and dragged her along the ground."
However, the Style Network show's upcoming new episode on Wednesday will reveal a very different version of events, according to a source close to the situation.
"The footage clearly shows Ashlee cussing Kahdijiha out and throwing a glass at her and no clothes were torn off," the insider exclusively tells RadarOnline.com.
As for the allegations of Hawn's hair being ripped out, "Ashlee has worn extensions for years and has been complaining about those bald spots for a while," the insider claims, going on to allege that Ashlee had been "discriminating against Kahdijiha from the moment they met" because she only wanted blonde girls on the Big Rich Texas spin-off.
MORE ON:
Celebrity Justice
Article continues below advertisement
Instead of being kicked from the show for the alleged assault, a police report filed by Ashlee landed Khadijah in jail for two nights on charges of felony battery, before being bonded for $5,000.
"The allegation that Ashlee went into hiding after the alleged assault because she was terrified of Kahdijiha is laughable," said the insider. "A lot of people are angry as they believe Ashlee fabricated the attack story and turned it into a legal matter. I wouldn't be surprised if Ashlee isn't asked back for season two because she is seen as a liability."
Meanwhile, the insider says that Rowe hopes Ashlee gets the help she needs to resolve her issues.
"Justice will be served" the source says. "Kahdijiha will be fully vindicated when the truth comes out, the cameras don't lie."
And don't expect the explosive pair to be kiss and make-up any time soon. Said the source: "Kahdijiha was willing to forgive Ashlee but Ashlee filed charges and then refused to film with her!"