Alabama Quarterback's Gorgeous Beauty Queen Girlfriend - See All Her Sexy Photos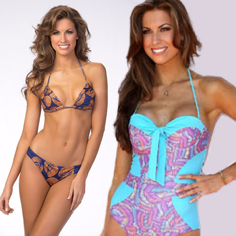 Alabama Quarterback AJ McCarron's beauty queen girlfriend isn't exactly hard on the eyes!
After catapulting into the limelight at the BCS Championship Game between Alabama and Notre Dame in Miami on Monday night and amassing a huge social media following overnight, Miss Alabama Katherine Webb is definitely a sexy hot topic, and RadarOnline.com has steamy snaps of the bona fide beauty showing off her bangin' bikini body.
Article continues below advertisement
"Wow, you quarterbacks get all the good looking women. What a beautiful woman, whoa!" Brent Musburger gushed to Kirk Herbstreit as ESPN cameras focused on McCarron's 23-year-old girlfriend in the stands. "If you're a youngster in Alabama, start getting the football out and throw it around the backyard with pops."
Talk about an overnight sensation! By 2:30 p.m. EST on Tuesday, less than 24 hours after the on-air exposure, Webb, who previously had about 2,000 followers, had amassed mroe than 155,000.