The Voice Crowns Its Season Three Champ!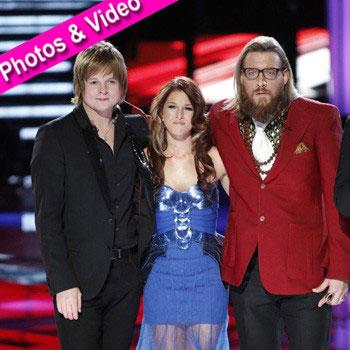 The third season winner of NBC's The Voice was announced on Tuesday's two-hour finale, and it was anyone's guess whether Terry McDermott, Cassadee Pope, Nicholas David would walk away victorious.
SPOILER ALERT: Who Won The Voice's Third Season?
Cassadee Pope is your winner, capturing a $100,000 cash prize and a recording contract with Universal Republic.
"Holy moly cannoli!!!! I won!!!!!!!!" she tweeted after winning. "Thank you all SO much. I'm absolutely in awe and so thankful for this incredible experience."
Article continues below advertisement
The 23-year-old beauty, a member of Blake Shelton's team, beat Scottish rocker Terry (also on Blake's team) and soul singer Nicholas (from CeeLo Green's team) on Tuesday night, which also marked the last episodes for Christina Aguilera and CeeLo Green, as Shakira and Usher will fill their chairs as mentors next season.
The finale was littered with performances from superstar singers past and present, as Rihanna, Kelly Clarkson, Bruno Mars, The Killers, Smokey Robinson and Peter Frampton all took the stage.