Hiding Something, Selma? Blair Covers Up Bony Chest After Scary Skinny Controversy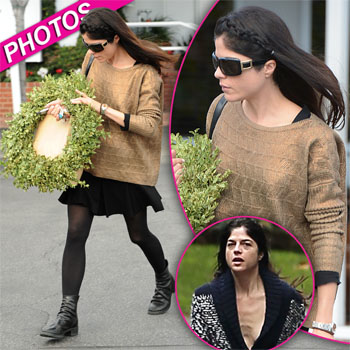 No more cardigans for Selma Blair!
The 40-year-old actress, who sparked serious concern after showing off a frighteningly sunken chest, jetting ribs and gaunt face in Los Angeles earlier this week, drenched her figure in an oversized sweater during a holiday shopping trip in Los Angeles on Tuesday, and RadarOnline.com has the photos.
Picking up a wreath at Fred Segal, the Hellboy star donned a baggy gold sweater with a black skirt, tights and boots on her first public outing since she revealed her scary skinny frame.
Article continues below advertisement
Talk About A Handful! Selma Blair's Baby Cops A Feel
Selma Blair & Baby Daddy Jason Bleick Split