Santa Can Sign! Father Christmas Makes Shy Little Deaf Boy's Day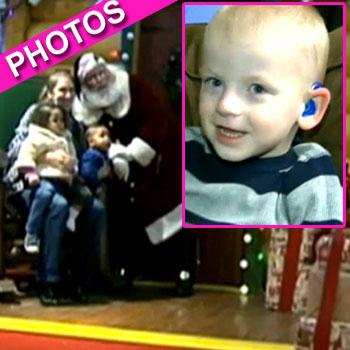 A Foxboro, Massachusetts mall Santa made a shy little deaf boy's day over the Holidays by surprising him with sign language.
When 3-year-old Cameron Sylvester, who has a condition called auditory neuropathy, was too scared to sit on his lap the wise Santa, who noticed the blue hearing aid in the little boy's ear, reassured him with a little sign language -- asking him "are you a good boy?"
Article continues below advertisement
And it worked a treat!
"I wanted to cry," Cameron's mother told WCVB. "A lot of people don't know sign language, and there's Santa, and he knew what Cameron needed to see."
"It's touching, because it's nice to know that there are people still left in the world that care," Cameron's father said.
Meanwhile, Santa, who sees around 18,000 children a year at the Boston area mall, was also lifted by the experience. "It's wonderful," he said about the interaction. "I live for moments like those."