Catfight On The Catwalk! Naomi Campbell Feuding With Judges On New Reality Show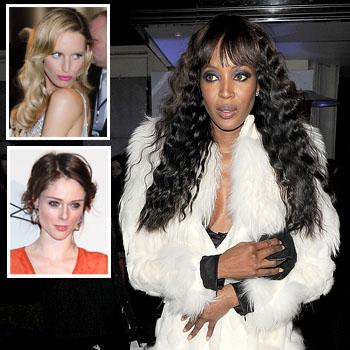 The first episode hasn't even aired yet and already the catfights have begun behind-the-scenes of Oxygen's new reality show The Face, according to reports.
And rumor has it that tantrum-prone supermodel Naomi Campbell is contributing to the tension.
A source has told the New York Post that the 42-year-old Brit is butting heads with Coco Rocha, while their fellow model Karolina Kurkova and Nigel Barker, the show's host, remain neutral.
Article continues below advertisement
PHOTO: Our Favorite Newspaper Headline About Naomi Campbell!
"Nigel is the only one who gets along with everyone," the source says. "He's been left as the host and the referee.
"You've got three models, all at different stages of their careers and different ages, and they are really not getting along.
"It's a competition show and none of them are used to losing."
According to another source Campbell is at the center of the tension.
"Naomi doesn't have to have a reason not to like somebody," the source says. "She just doesn't like certain people."
Meanwhile the model's legendary tardiness seems to be another factor.
Naomi Campbell Finds Her Inner "Pocahontas"
"There were some issues with Coco being on time and Naomi not being on time and Coco getting annoyed," the source says.
"Coco's a Jehovah's Witness and she believes in being correct and polite and being on time. She doesn't drink. She's super straight-laced. So it's been a real mess between Coco and Naomi…