Double The Fake Freakiness! Meet The Human Barbie's Plastic Fantastic Doppleganger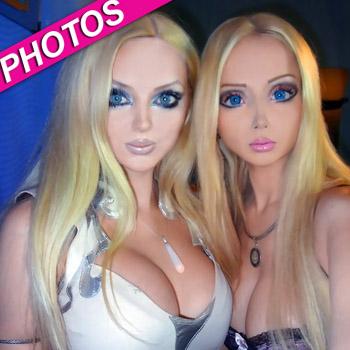 Article continues below advertisement
"We are really sisters -- but only in spiritual way," she went on to say. "We have the same outlook and lifestyle."
As RadarOnline.com previously reported, in a recent interview with V magazine, the self-titled 'living doll' described Dominika as her fashion designer who helped her create all the futuristic – and very skimpy – costume choices that enhance her fake facade.
The plastic -- and reportedly surgically-enhanced pair -- has been holding lectures on spirituality for around $100 a session and say they use their unique looks to lure in participants.
"We are planning to move to America soon. Dominika's boyfriend is living in the U.S. and my husband wants to start a business there too," said Valeria. "I am not going to be bored abroad, I'm often invited to photo-shoots and parties."
While, the outlandish model aspires to benefit people, she has been slammed for spawning a "Barbie flu" and inspiring other girls in the Ukraine to adopt fantasy, fairylike looks and lifestyle.