Emily VanCamp Banishes Botox, 'To Each Their Own'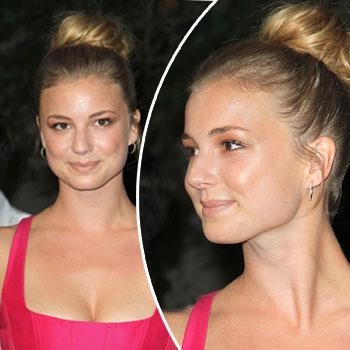 Unlike most Hollywood stars, Emily VanCamp is looking forward to fine lines and wrinkles!
The Revenge bombshell, who flaunts her fabulous figure in the January 2013 issue of Women's Health, weighs in on the hot topic of plastic surgery and Botox – and RadarOnline.com has the images.
"I mean, to each his own, and I know there are those pressures," she says about altering appearances in Hollywood. "But I look at my grandmother and think, Wow, I hope I have those happy wrinkles. You see the map of her life on her face, and she's so beautiful. She wouldn't be my grandma without those beautiful lines."
Article continues below advertisement
And while most stars her age prefer the glitz and glamour of Hollywood to a laid back lifestyle, Emily maintains that she lives for the latter – as does her boyfriend, her hunky costar Josh Bowman.
"I'm at my most confident when I'm in nature and I don't have to dress up," she explains. "When I take off my makeup, that's my boyfriend's favorite. And that, to me, is a symbol of a great guy— someone who doesn't care about all that stuff. It's more about accepting each other as separate people."