Finally! Blake Lively & Ryan Reynolds Wedding Celebration Details Revealed!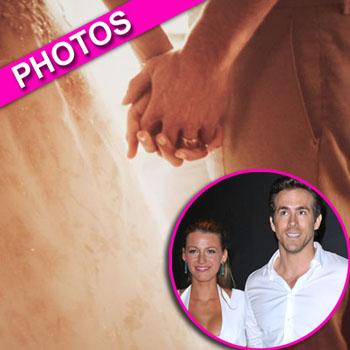 Article continues below advertisement
Wearing her custom made Marchesa gown, described as a "cloudlike silk tulle gown" with a "fitted bodice, illusion crystal beading on the shoulders, and rose-gold embroidery" Blake is holding Ryan's hand, as he's decked out in a Burberry suit with custom leather suspenders.
"From the heartfelt ceremony to the fun-filled carnival hour and elegant reception, it was a truly enchanting celebration," Martha said of the nuptials that only 35 guests attended.
"They wanted to celebrate in privacy – and in style. And while they remain protective of images of them on their most heartfelt occasion, they graciously let us share pictures of the elements we created together," the magazine said about the beautiful day.
Blake's bouquet created by Weddings' style director Kate Berry, and a delicious details was shared: "The focal point was their vanilla-and-sour-cream wedding cake with peach-apricot preserves and Earl Grey-milk chocolate buttercream made by Maggie Austin Cake in Alexandria, Virginia."