Goodbye 'Gossip Girl!' Blake Lively And Chace Crawford Share Wrap Party Photos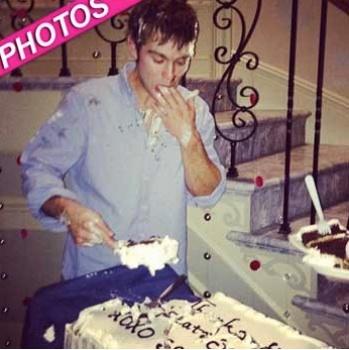 There were smiles, cake and even a food fight when the stars of Gossip Girl shot the final scenes of the hit series.
Co-stars Blake Lively and Chace Crawford shared the fun and games with their fans by posting photos on their Twitter and Instagram pages.
The 27-year-old actor – who played Nate Archibald – showed his silly side by posting photos of himself covered in cake on his Facebook page.
Article continues below advertisement
Chace Crawford: New Hair Cut, New Girl Friend
Crawford's hair, chest and part of his face were smothered in white icing. He wrote: "Who wants some cake? :D"
His co-stars Michelle Trachtenberg (who played Georgina Sparks) and Penn Badgley (who portrayed Dan Humphrey) also got in on the cake smearing fun. Lively posted a photo of the pair with icing on their face, diving into a slice.
The 25-year-old actress – who wed The Proposal star Ryan Reynolds last month – shared more poignant pictures on her Instagram page. They included a shot of cupcakes decorated with "XOXO" and "Gossip Girl" on top.
She also uploaded a shot of the cast members' chairs lined up on set, each one featuring a name of a character. Lively wrote: "Goodbye Gossip Girl! Blair, Lily, Chuck, Dan."
The cast and crew later headed out on the town for a glitzy wrap party.
When Gossip Girl hit TV screens in 2007 it made household names of Crawford, Lively, Taylor Momsen, Leighton Meester and Kelly Rutherford.
Fans have been offered a glimpse of the final storyline as photos taken of the cast filming on location suggests that Lively's character Serena van der Woodsen marries Dan.