Smell Like Taylor, Get Skin Like Julianna, And Tattoos Like...Beyonce?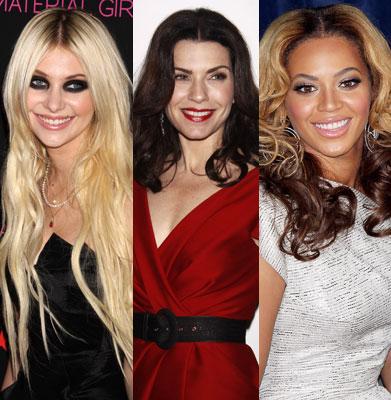 Celebs and beauty go hand in hand, so it is never surprising when they score themselves coveted contracts. RadarOnline.com has the latest beauty news courtesy of WWD, on the most beautiful and sought after faces in Hollywood.
Taylor Momsen Is Pretty Reckless - With Makeup
Taylor Momsen may be Pretty Reckless for a 16-year-old, but apparently John Galliano envisioned her as the face of his fragrance Parlez-Moi d'Amour, which is targeted at 16- to 30-year-old women. The Gossip Girl poses provocatively in the advertisements for the iconic designer's perfume, which is set to hit the shelves in mid-October.
Article continues below advertisement
Since Julianna Margulies is totally gorgeous and such a Good Wife, it isn't shocking that she has been named face of L'Oreal Revitalift. Expect to see her pretty face splashing the pages of magazines in early 2011.
And finally, in a shocking and somewhat out-of-the ordinary deal, Beyonce and her mother Tina Knowles have paired up with makeup company Temptu to create a Beyonce for Dereon temporary tattoo line. The basic ($16) and deluxe ($34) kits will hit Sephora stores on November 1 and will feature cool designs, which will last for two to five days.