Paris Hilton Causes Religious Outrage And 'Insults Mecca' By Opening Store In The Holy City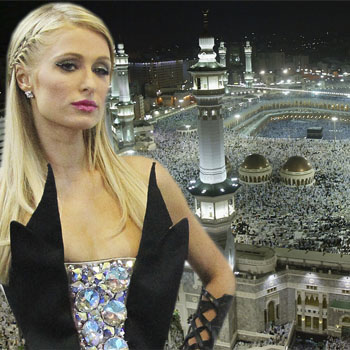 By Debbie Emery - RadarOnline.com Reporter
Paris Hilton is no stranger to controversy and scandal, but now the socialite has managed to upset an entire religion!
The hotel heiress best known for sex tapes, flesh-baring skimpy outfits and brushes with the law has sparked outrage in the Middle East by opening a new shop in the Saudi Arabian Holy City of Mecca.
Hilton made the announcement on November 14 that her bag and accessory collections were to be sold there, tweeting: "Loving my beautiful new store that just opened at Mecca Mall in Saudi Arabia!"
Article continues below advertisement
The Twitter message quickly sparked an angry backlash complaining about 31-year-old Paris pimping her products in the holy land, with a slew of messages from Saudis voicing their disgust at the business venture.
"Wahhabis at work! Historic religious sites in Medina are being destroyed, while Paris Hilton opens a new store in Mecca mall," wrote one critic, while another commented: "So Paris Hilton opened a handbag store in MECCA? The world is a corrupt place at the moment. Someone please send me to Mars."
Adam Lambert Blasts Paris Hilton's AIDS Comment About Gay Men: 'She's Not Worth It'