Outrage And Death Threats Against Diver Who Dragged Huge Live Octopus From Ocean For 'Dinner'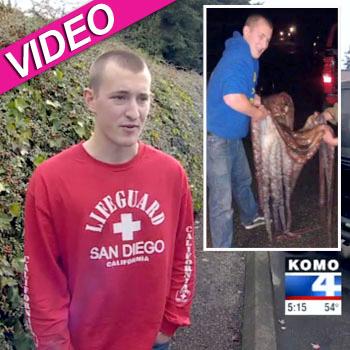 A diver is at the receiving end of worldwide outrage -- and even death threats -- after he caught a giant octopus and took it home "for dinner" when it was still alive and kicking.
Dylan Mayer, 20, a self proclaimed "octopus catcher," caught the eight-armed animal in Puget Sound off the coast of West Seattle and despite furious onlookers taking pictures and hurling abuse at him, he says he doesn't understand the fuss.
Article continues below advertisement
He told KOMO-TV: "I eat it for meat. It's no different to fishing. It's just a different animal."
But angry divers don't agree.
Eyewitness told reporters the giant octopus was still very much alive when Mayer and a friend dumped it into their truck before measuring it.
"As they were coming in you could tell the octopus was alive. It was writhing around and they were wrestling with it," Bob Bailey told KOMO.
However game warden Wendy Willette agrees that Mayer did not do anything illegal but said that the issue was how we went about the catch.
"You have to be sensitive to other divers. It's like deer killing, you don't kill a deer with kids around," she said.
Since the furor, Mayer said he has receied dozens of threatening phone calls and hate-filled emails and says if he could turn the clock back he would have done things differently and gone to another area for his dive.
Article continues below advertisement
PETA Wants To Turn OJ Simpson's House Into A 'Meat Is Murder' Museum