Exclusive
Newlywed Anchor Remembered As 'A Young, Fun, Vibrant Guy' After Sudden Diabetes Death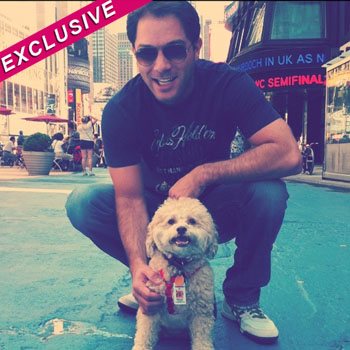 By Debbie Emery - RadarOnline.com Reporter
The TV world lost a great talent on Tuesday when Emmy-award winning anchorman Joel Connable died from a suspected diabetic seizure at age 39, and friends are now offering their fondest memories of his bright personality and professional skills.
Having married his longtime girlfriend, paralegal Angela Shlyakhov, less than two weeks ago, and starting a job in Seattle at ABC affiliate, KOMO-TV, Joel had a new life ahead of him to look forward to when he was struck down by the Type I diabetes that he had suffered from since age 13.
Article continues below advertisement
"I am in shock. I knew Joel from my days living in South Florida. He interviewed me several times on-air for various travel segments when he was an anchor with NBC Miami affiliate WTVJ-TV," friend Stacy Small, founder and president of Elite Travel International told RadarOnline.com in an exclusive interview.
"I just 'liked' his Facebook post the other day about his 'anchoring his first newscast' in Seattle!" said his excited former colleague.
"This is so sad to hear about. I am beyond saddened as he was such a young, fun, vibrant guy and I always enjoyed being interviewed on air by him in Miami."
"I remember going there for my first ever 'on air' interview, I was super nervous and his warm personality immediately put me at ease," Small recalled. "I always enjoyed the interactions I had with Joel and was excited to see that he recently landed on the West Coast."
Article continues below advertisement
Connable, who launched his own company after leaving WTVJ-TV called Travel TV News, used a therapy dog named Lola to travel by his side at all times to alert him of blood sugar imbalances. The little curly haired pooch had been with him for five years and logged up 35,000 miles with her jet-setting owner.
Lola, who was trained at sniffing out blood sugar levels, was with her late owner when his body was discovered, it is thought that she alerted him of a problem but his insulin pump may have malfunctioned.
"I never met Lola but as a fellow dog lover I can only imagine how great she was," Small told RadarOnline.com.
The veteran newsman had worked as a reporter in Los Angeles at KCBS-KCAL for three years (2003-2006) before leaving to report and then anchor on Miami's NBC affiliate, WTVJ-TV. After parting ways with the station in a legal dispute, he took a three-year break from the news business until taking the job at Seattle's ABC affiliate, KOMO-TV.