Exclusive
Business As Usual: Former Bachelor Andy Baldwin Defends Post Sandy New York City Marathon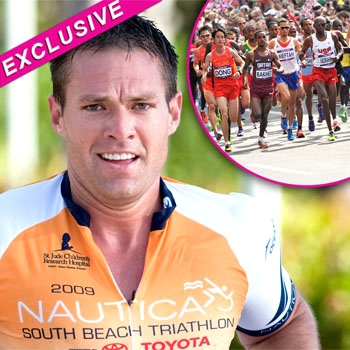 By Jen Heger - RadarOnline.com Assistant Managing Editor
Former Bachelor hunk, Dr. Andy Baldwin, who is currently in New York City to participate in the marathon this weekend, is defending Mayor Michael Bloomberg's controversial decision to proceed with the race just days after Hurricane Sandy ravaged the Big Apple, RadarOnline.com is exclusively reporting.
"I believe the thousands of people will bring assistance and altruism to the city," Dr. Andy Baldwin tells RadarOnline.com exclusively. "I wholeheartedly believe people will help multiply the relief funds and efforts. The race has donated $2.5 million towards the relief efforts and there are many campaigns going on to raise more money. All runners I have asked have been asking what they can do to help."
Article continues below advertisement
As for criticism that the race will be diverting resources from the aftermath of the horrific storm, Baldwin says, "What about resources that are being diverted to support the NY Giants NFL game?" The Giants will be playing the Pittsburgh Steelers on Sunday at MetLife Stadium in New Jersey.
Meanwhile, as RadarOnline.com previously reported, things for people on the East Coast have gone from bad to worse, as a Queens man was arrested and taken into custody on charges of menacing and criminal possession of a weapon police said, after he brandished a gun on a fellow driver Thursday while trying to get gas in fuel-depleted New York.
Sean Bailey could face up to 15 years in prison if convicted on the charges, which stem from an incident in which Bailey allegedly cut another driver off to get in line for gas then pulled his gun out when the motorist complained.
Superstorm Sandy has closed down many gas stations and slowed deliveries to a halt, creating massive lines at the outlets that remain open.
The do-gooding doc founded Got Your Back Network, a foundation that provides an avenue for the children of fallen soldiers to learn and be inspired by the most successful leaders of our generation. Baldwin is still enlisted with the United States Navy.