Michael Lohan Takes Paternity Test Regarding 17-Year-Old Claiming To Be His Daughter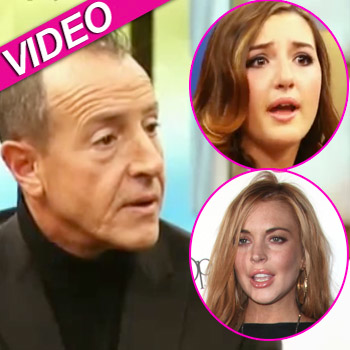 Article continues below advertisement
"I don't want to be a part of the Lohan trainwreck," Ashley says on The Trisha Goddard Show.
Michael clearly gets agitated backstage and demands, "I'm not playing Trisha's game. She wants me out there now, or I leave."
Besides the four children Michael has with ex Dina Lohan, the 52-year-old is expecting another child with long-time girlfriend Kate Major, 29.
"What gives you the right to tell me that the kids have a right to disown me," Ashley cries. "What made you say that to me? How can you keep lying?"
Ashley claims Michael has never been there for her and has refused to acknowledge that she is his — except for early on in her childhood.
"Being there and then disappearing," Ashley says. "You talked to me when I was seven-years-old. Why would you even tell me to call you daddy?"
Ashley's mother gets angry with Michael on set saying, "You have known about Ashley since the beginning! You've been promising to take the DNA test. How could you do something so cruel?"
Article continues below advertisement
"I think I'm gonna get sick," Michael says backstage, just before doing the DNA test.
Making a special appearance is American talkshow host Maury Povich, who sits down one-on-one with Michael for a special tell-all interview to find out why he's doubted that Ashley is his all these years.
Do you think Ashley is Michael's daughter? Sound off below…