Not All Pairs Of Boobs Are Matching Sets! Celebs With Lopsided Assets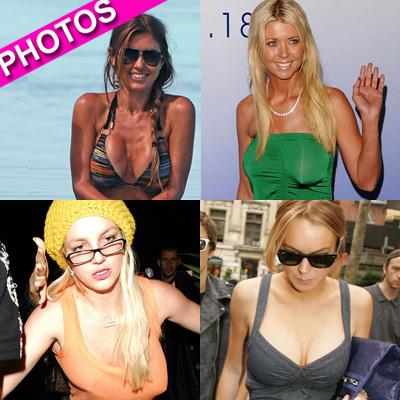 Stars don't have to be symmetrical to be sexy!
Whether plastic surgery disasters or totally natural beauties, a bevy of celebrities have left breasts that aren't exactly identical to the right. RadarOnline.com has photos of 10 stars showing off their not-so-balanced boobs in bikinis and on the red carpet.
It's no secret that Tara Reid has asymmetrical assets! The American Pie star exposed her surgically enhanced breasts to the world during her infamous wardrobe malfunction, but even when the bad girl has her clothes on, it's obvious that they aren't quite the same size.
Article continues below advertisement
After years of rumors that her boobs were fake, The Hills hottie Audrina Patridge blasted back at plastic surgery speculation, claiming that her boobs were totally real, but that they were in fact, different sizes!
Even beauty queens aren't perfect! Despite her lopsided boobs, Carrie Prejean still manages to steam up the swimsuit portion of every pageant.
There is a Real difference between the size of Kelly Bensimson's right and left boobs! The smokin' hot Housewife appears to boast a bigger left breast.