Lark Voorhies' Bizarre Interview: I'm Not Bipolar, 'It's A Small Opinionata'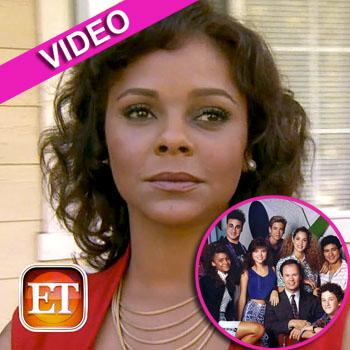 Lark Voorhies, famous for playing Lisa Tuttle on the 90s hit Saved By The Bell, denies she's suffering from bipolar disorder in a bizarre new interview with Entertainment Tonight, and we've got all the details for you right here on RadarOnline.com.
Lark, who says she's not seeing a doctor, tells ET she was duped by People magazine, who she says initially pitched their recent story about her -- an investigation into her battle with mental illness -- as a profile piece.
Article continues below advertisement
"It is a small u …opinionata that is getting blown currently out of proportions," she told ET's Christina McLarty. "I have no stating reasons why anyone should worry about me. Clearly, I am a very strong, top-of-the line, always riding to it personage.
"I have no worries myself, nor do I exude, exhibit or possess within my living stratus any reason why someone should worry on my behalf -- it's completely fictional."
The 38-year-old Nashville-born actress told ET, "It's much like fighting...when you enlist in the Army, you get yourself physically fit, mentally fit and informational-wise fit, so it's just the same. It's like stage boot camp.
"You know, you put all the right elements together and you keep them going...we have to be entertainers. This is our particular angle."
People, saying they spent hours with the actress and her loved ones, said, "We stand by our story."
Article continues below advertisement
The former sitcom star, who is a Jehovah's Witness, gave similar disjoined turns of phrase in the People feature, saying she felt like she was carrying on the interview in a hurricane.
"Oh no. We're alive in a major time of all-in-all prophecy…you caught me in moments of pray…I have a strong spiritual sense."
Watch the video on RadarOnline.com
As we previously reported, the People article quoted her mother Tricia as saying Lark was deeply traumatized after her 2001 divorce from ex Miguel Coleman, and has resisted efforts to be placed under professional care following a bipolar diagnosis.
"She's trying so hard," Tricia told the magazine. "She says she's delayed, but she's going to get there."
Lark, who told ET her mother's words to People were "over-loving," turned heads in May when she unveiled a very different appearance on Yahoo's The Yo Show, sparking rumors of plastic surgery and/or drug abuse.
RELATED STORIES:
Saved By The Bell Star Lark Voorhies Battling Mental Illness, Says Her Mother