Kat Von D Splits From DJ Boyfriend Deadmau5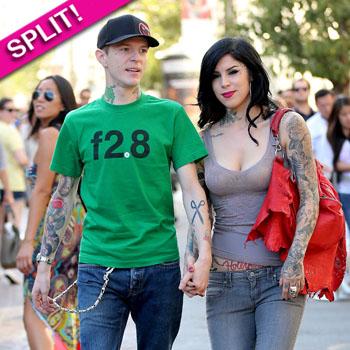 Another one bites the dust for Kat Von D who has split from her boyfriend Deadmau5.
The tattooed former mistress of Sandra Bullock's ex-husband, Jesse James announced her break up from the popular DJ - real name Joel Zimmerman - via her Twitter account.
"Man..I can't say I didn't give it my best," she wrote on her social networking page on Saturday. "Man, I sure was wrong. But at least he made it a no brainer to break that off. #lessonlearned
Article continues below advertisement
"Now, we can get all of the "I told you so's" outta the way...And move on.
"Clarification: Deadmau5 and I are no longer together."
Deadmau5 took responsibility for the break up posting confirmation on his Facebook page.
"going to spend a little while screwing my head back on," he wrote. "i guess I'm not cut out for relationships right now. and that's all i really wan't to dwell on it right now. ill figure it out. no hard feelings."