Kat Von D Sued By State Farm For More Than $900K, Saying She Caused House Fire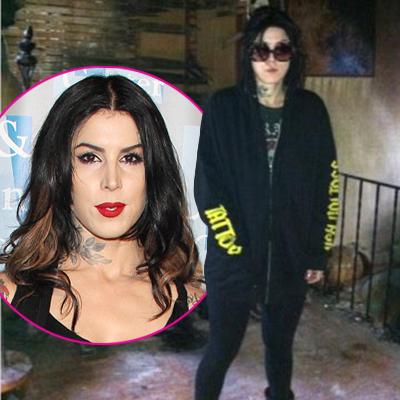 State Farm insurance is suing Kat Von D for the $909,199 they gave her following her November 20, 2010 house fire, as the insurance giant is now claiming the reality TV star was responsible for the blaze because she left a set of lit candles unattended.
The ex-L.A. Ink star, whose real name is Katherine von Drachenberg, also lost her cat Valentine in the fire.
Here Kitty, Kitty: Kat Von D Gets A New Cat After Last One Died In House Fire
Article continues below advertisement
Von D, in response to the suit first reported by E!, tweeted Wednesday: "Contrary 2 rumors-I did NOT burn my house down(I was on my booktour during the fire) and no, I did NOT kill my own cat."
She included a link to a Facebook memorial she wrote for her cat a few months after the January 2011 blaze.
"As some of you know, my house burned down right at the half way mark of my book tour," she wrote. "And it's weird because almost everyone around me feels really bad for me. I know its all coming from a good place, and I definitely appreciate all the thoughtful condolences, not just for my loss of 'stuff' but more importantly for the loss of my baby kitten, Valentine. But I'm honestly OK with it all if you gimme a chance to explain."
Von D is also known for her hook up with Jesse James after his repeated cheating on ex Sandra Bullock caused their split.
RELATED STORIES:
EXCLUSIVE DOCUMENTS: Read Kat Von D's Divorce Papers