Jennifer Esposito Says She Was Illegally Suspended From 'Blue Bloods,' Can't Afford To Sue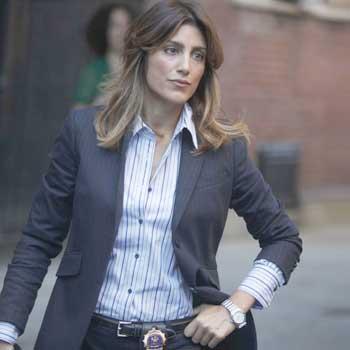 The battle between actress Jennifer Esposito and her bosses at CBS just got a whole lot hotter.
"Last week I was told I was on suspension, which meant I am still in contract, not being paid. It's completely illegal, but they also knew that I didn't have the money or the means to sue them." Esposito tells Fox News' Arthel Neville in an interview airing Sunday.
Esposito played Donnie Wahlberg's crime fighting partner in the CBS cop show, until her character was written out as taking a "leave of absence."
Article continues below advertisement
"When Blue Bloods goes on on a Friday night, Twitter starts going crazy." Esposito adds, saying that fans were upset when Wahlberg's character was seen with a new partner. "People don't like change, especially with Donnie," she says.
As RadarOnline.com reported, last month Esposito slammed CBS for taking her off the show. She says her Celiac disease caused her to collapse on the set and her doctor then ordered her to take a week off. But when she went to return to work, CBS honchos said no thanks.
"Jennifer has informed us that she is only available to work on a very limited part-time schedule. As a result, she's unable to perform the demands of her role, and we regretfully had to put her character on a leave of absence," network execs said in a statement.
Esposito calls her situation an "injustice," telling Neville "This is about a disease that people don't understand. What happened was ugliness. It makes me sick."