Jennifer Esposito Slams CBS Over Being Dumped From Blue Bloods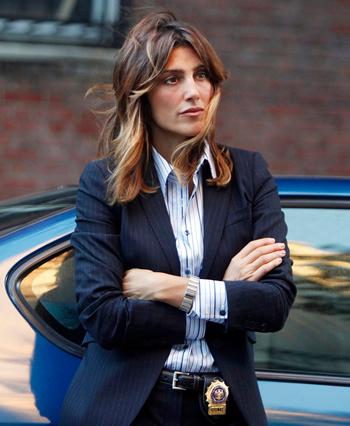 Jennifer Esposito is mad as hell, and she's not going to take it anymore!
The Blue Bloods actress has taken to her Twitter page to fire back at CBS, accusing the network of "absolutely shameful behavior" after they released a statement about her absence from the TV cop drama.
At the heart of the dispute is the 39-year-old's battle with celiac disease, a potentially debilitating intestinal condition caused by a gluten allergy.
Article continues below advertisement
The studio execs released a statement to Deadline.com explaining why, for now, Esposito's final onscreen appearance in Blue Bloods will be on November 2.
It says: "Jennifer has informed us that she is only available to work on a very limited part-time schedule.
"As a result, she's unable to perform the demands of her role, and we regretfully had to put her character on a leave of absence."
But Esposito took to her Twitter page to deny the claim.
She wrote: "CBS knows they PUT me on unpaid leave and has blocked me from working anywhere else after my doc said u needed a reduced schedule due to celiac.
"CBS didn't listen to my doc and I collapsed on set. Which everyone saw!
"After a week off my doc said I could return to work but CBS implied that I was NOT truly ill and this was a scheme to get a raise!
"It's been almost two months without brining sic me back to work + keeping me from working anywhere else!"
Article continues below advertisement
She goes on to say that it's "absolutely shameful behavior."
Fans of Blue Bloods, which also stars Tom Selleck, are clearly not happy either. One tweeted: "Can't believe that you're being discriminated against cause of your illness. They should be ashamed. You will be missed."
Guest stars will fill in for Esposito's character, whose onscreen partner is Detective Danny Reagan, played by Donnie Wahlberg.