Will 'Lost' Fans Love J.J. Abrams' New Sci-Fi Series 'Revolution'?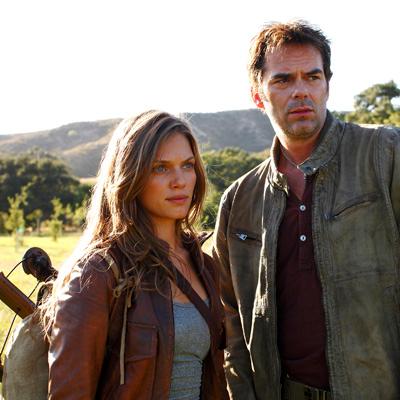 Lost creator J.J. Abrams kicks off a new suspenseful series executive producing NBC's Revolution, premiering Sept. 17.
As Star magazine reports, this action-packed sci-fi series starts with a killer opening: A panicked man named Ben (Tim Guinee) tells his wife that "it's happening," just as all the power in the world shuts down. The story then jumps 15 years forward into an electricity-free world of militias, splinter governments and a Civil War–era lifestyle. Amid the ruin is Ben's teen daughter, Charlie (Tracy Spiridakos), who's leading a group to search for her brother and a way to get the power turned back on. The postapocalyptic setting means that people fight with swords (because guns and ammunition are scarce).
Article continues below advertisement
Abrams knows how to spin a complex story but features a less than compelling cast (Billy Burke as a reluctant hero; Giancarlo Esposito as the hard-hearted villain).
While there are hints that these characters are merely pawns in a much larger story you may not have the patience to find out what it is.