Jennie Garth: 'I'm Looking For A Tattooed Bad Boy Who Likes Sex!'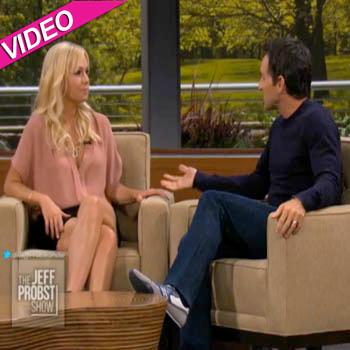 Jennie Garth has revealed she is only attracted to bad boys who are "not nice."
The newly single Beverly Hills 90210 star also admitted that despite losing 30 pounds and looking at the top of her game she is still not ready to get back into the dating pool.
Speaking on The Jeff Probst Show on Friday, the 40-year-old beauty, who split from husband of 10 years, Peter Facinelli earlier this year, said that she thought she was ready for romance again..but it's definitely too soon!
Article continues below advertisement
The mother of three also told Probst: "I only like guys that are not nice.
"It's not like I want somebody to treat me badly. I want somebody who looks like they could treat me badly, but then really treats me good."
She also shared her thoughts on how scary she finds the thought of being on the market again.
Garth said: "I would rather lick the bottom of my shoe than go on a date.
"The minute I think I'm ready to start dating, then I realize, 'Oh no you're not.' I just don't know how to date."
Garth has been linked to real estate agent Jason Clark and photographer Noah Abrams but insists she is defintely still single.
"I'm not dating anyone," she said firmly and added that relationships are a "rough topic."
She was also totally horrifed at Jeff's suggestion that she try online dating, saying she would be "too scared."
And what is she looking for in her next man?
"Tall, a bad boy, tattooed and financially secure...and has to like sex!" she cheekily replied.