Jennie Garth Reveals How She Lost 30 Pounds & Talks About Her Depression From Divorce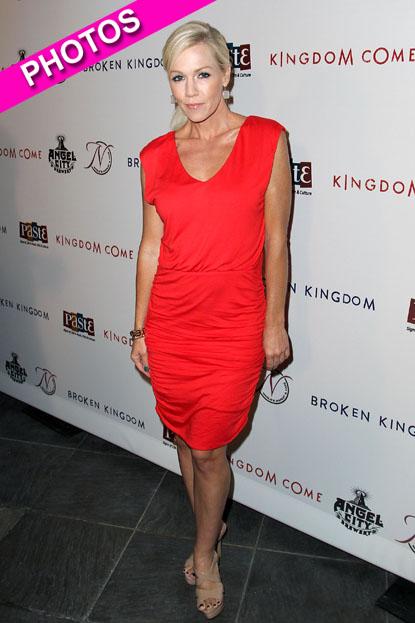 By Amber Goodhand - RadarOnline.com News Editor
Former 90210 alum Jennie Garth had a heartbreaking year when she split from her husband of 11 years, Peter Facinelli, but the actress dropped 30 pounds in the process despite the depression she describes of her breakup.
"I spent a couple of years lying in bed and being depressed," the 40-year-old told People magazine in a recent interview.
"It was that 'I can't breathe' pain. Physically I didn't look my best, and mentally I didn't feel my best. I was doing everything I could to be a good mom, but that was all I could handle."
Article continues below advertisement
Jennie says the milestone of her 40th birthday and months of isolation snapped her into realizing things needed to change.
"I just looked at it like there's no way I can hide out in the country and never work again, never love again and never laugh again," she said.
"I didn't even know that person. I'm such a different person now."
The mother of three says she lost the excess weight by eating smaller portions, hitting the gym with a personal trainer and taking up meditation.
"I love banana cupcakes with creak cheese frosting," she says of her guilty pleasure. "I buy a box and put them in my freezer for when I need them. It's like my drug. When I need my cupcake, I take one out."
Jennie is on the up-and-up, even developing a new sitcom with her former 90210 co-star, Luke Perry, who can't stop raving about her transformation.
"She looks fabulous," he said. "She has the ass of a 25-year-old!"
Article continues below advertisement
Although Jennie has moved on as a single mother and is thankful for the support of her friends and family, she says the split with Peter is still painful at times.
"I go out, and I see happy families — and men and women on dates — and there's a part of me that's like, 'Ouch!'" she says.
"But you have to pick yourself up and say, 'Let's go.'"
RELATED STORIES:
Jennie Garth On Split With Peter Facinelli: 'It Happens To The Best Of Us'
Peter Facinelli Files For Divorce From Jennie Garth