Peter Facinelli Who? Jennie Garth Spotted On Date With Super Hot New Guy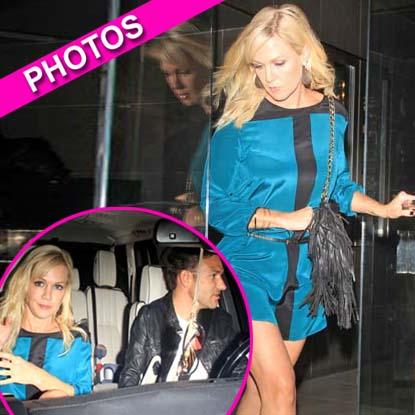 Jennie Garth got her groove back!
The 40-year-old mom-of-three has been spotted on a hot date with Los Angeles businessman Jason Clark.
The pair was seen at the W Hollywood on Sunday night, according to Us Weekly.
"She looked super cute. She loved the music and sat in the front row," a source told the magazine, which is reporting it was the couple's first date.
"It was just the two of them alone."
Article continues below advertisement
Clark is the managing director of healthcare solutions at Jones Lang LaSalle a financing firm specializing in commercial real estate.
It's the third man the former Beverly Hills 90210 star has been linked to since splitting from her husband Twilight actor Peter Facinelli in March this year. Garth has since filed for divorce.
In the meantime she was briefly connected to HGTV star Antonio Ballatore, as well as photographer Noah Abrams.
It's the latest in a series of positive signs for Garth who revealed she has lost 30 pounds since the split. The blonde is also happier after emerging from a depression she said had engulfed her.
As RadarOnline.com previously reported, the actress told People: "I spent a couple of years lying in bed being depressed.
"It was that 'I can't breathe' pain. Physically I didn't look my best and mentally I didn't feel my best."
Article continues below advertisement