Dancing With The Stars Crowns Its 'All Stars' Winner!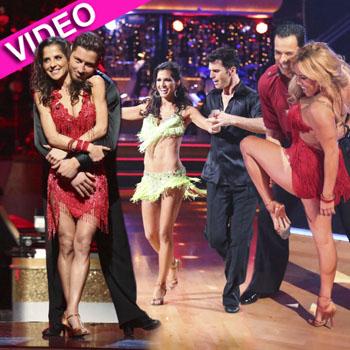 The winner of Dancing with the Stars: All Stars was crowned Tuesday night, and with amazing performances from finalists Kelly Monaco, Melissa Rycroft and Shawn Johnson on Monday, the title was anyone's to take.
SPOILER: Who Won Dancing with the Stars: All Stars?
It was Melissa Rycroft's night.
The Dallas Cowboys cheerleader-turned-ABC reality star; was chosen over Monaco and Johnson to emerge as the winner of the show's most challenging season to-date.
Article continues below advertisement
The 29-year-old beauty told Jimmy Kimmel after her win, "We didn't expect it, it was really surreal...there were just shiny mirrorballs in front of us!" The Melissa & Tye star, who was paired with Tony Dovolani, sealed the deal; with a clutch performance Monday that saw her get perfect scores from the judges in both of her dances.
"I cannot believe it," Rycroft told USA Today following her win. "I'm standing here, holding the All-Star trophy."
The three female finalists -- another first in show history -- took the floor for a last dance Tuesday, with Rycroft scoring 28.5 for her samba. She and Johnson were the last two standing after the show's first-ever champion Monaco was eliminated, and the reality star admits she thought her chances were slim at that point.
"When it was down to the two of us, I just assumed it would be them," she told the newspaper. "It had to be the Olympian. So now I'm just really proud of what we achieved here.
Article continues below advertisement
"It's just incredible...I think I'm going to put it in my front yard or on my car, where everyone can see it."
Kimmel asked Dovolani if winning Tuesday made up for being paired up with Kate Gosselin a few years back.
"You can say that, but she's a sweetheart, I'm sure she voted for us!" Dovolani said.
The show's season eight winner, Johnson was gracious in defeat with the knowledge that she gave it her all.
"We put everything on the dance floor tonight," said the gymnast, who was paired with Derek Hough. "To be honest, they deserved it. To see the look of joy on their faces when they won, it was amazing."
All of this season's contestants -- Pamela Anderson, Sabrina Bryan, Kirstie Alley, Gilles Marini, Joey Fatone, Drew Lachey, Helio Castroneves, Bristol Palin, Apolo Anton Ohno and Emmitt Smith -- returned for a last dance on the show's season finale.