Exclusive
Dirrty Girl: Christina Aguilera Unleashed Her 'Kinky Side' On Vanessa Hudgens!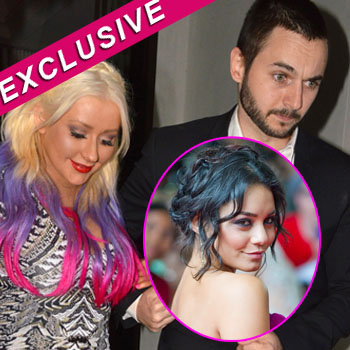 They were both child stars who got their big break on the Disney Channel.
But Christina Aguilera wanted to have something else in common with Vanessa Hudgens -- her boyfriend. According to a new report, the 31-year-old mom wanted Hudgens to "come back home with her" and beau, Matt Rutler.
The cheeky ex-Voice coach allegedly hit on the High School Musical actress at a Beverly Hills party, according to the new issue of Star magazine.
Article continues below advertisement
A source tells Star that the Dirrty threesome proposal came last month at the Samsung Galaxy Note II launch bash, which was held at a private residence.
The fellow reveler said Aguilera looked like "a hot mess in black stretch pants and wrinkled white T-shirt."
"There were vodka bottles strewn all over her table, and she seemed to be glued to them," the source said.
"Eventually Matt looked like he had taken on the role of babysitter."
The atmosphere heated up when Aguilera reportedly put the moves on Hudgens.
The source says: "She spent a lot of time on the dance floor gyrating next to Vanessa, who looked like she was having fun with the situation in a good-natured way. And the more Christina drank, the more her kinky side seemed to come out.
"It really seemed like she was playing the role of seductress – with Vanessa as her target!"
Article continues below advertisement
But Hudgens refused to go home with Aguilera and her boyfriend of two years.
"Out of the blue Christina stumbled over to Vanessa and begged her to come back home with her and Matt!" the partygoer tells Star. "Vanessa was taken aback but smiled and politely declined the offer."
For the full story, pick up the new issue of Star magazine — on newsstands Thursday.
RELATED STORIES:
'Princess' Christina Aguilera Hogs The Spotlight In Fishnets And Tiara