Exclusive
Celebrity Feud! Christina Aguilera Calls Simon Cowell A (Bleep)!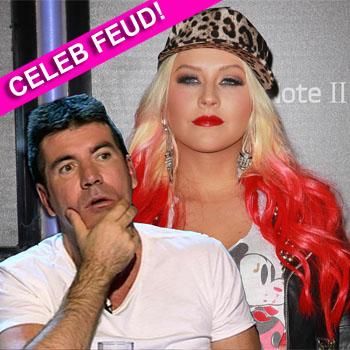 Talent show tension is heating up.
The Voice's Christina Aguilera called The X Factor's Simon Cowell a "di*k" during a chat Thursday at the Billboard/Hollywood Reporter Film & TV Conference in Los Angeles.
"I've not actually seen a full episode of any of the other music shows," the outspoken 'What A Girl Wants' singer said. "I saw the commercials early on of American Idol of Simon being a di*k. I was like, 'Man, that's not what it's about!'"
Article continues below advertisement
The 'Lady Marmalade' singer said she "didn't want to treat people like that," and that a part of the reason she's on The Voice is "to show that judges can be positive.
"We don't have to knock people down," the 31-year-old singer said, before mentioning one of Simon's greatest successes. "Jennifer Hudson came from American Idol and went on to do Dreamgirls and won an Oscar.
"I know we all have different formats."