Christina Aguilera To Record Execs: 'I'm A Fat Girl, Get Over It'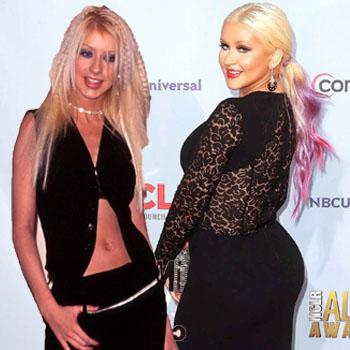 Christina Aguilera is opening up about her struggles with weight and the pressure put on her by record industry execs to stay super skinny.
She tells Billboard magazine that during the promotion of her 2002 album, Stripped, "I got tired of being a skinny, white girl. I am Ecuadorian but people felt so safe passing me off as a skinny, blue-eyed white girl."
Months later, after touring with Justin Timberlake in support of the album and gaining 15 pounds, Christina said her label bosses flipped out!
Article continues below advertisement
"They called this serious emergency meeting about how there was a lot of backlash about my weight. Basically, they told me I would effect a lot of people if I gained weight -- the production, musical directors."
Aguilera said the pressure was always on, that no one would buy her records or come to her live shows if she was heavy, and that would impact the livelihood of hundreds of people, and she was"so young" she didn't know how to stand up to the stress.
By the time she set out on her 2006 tour for her Back to Basics album, Aguilera described herself as "toothpick thin."
The Voice mentor revealed that it was only in this last year that she felt truly comfortable to be who she says she really is.
It was during her time in the studio working on the soon to-be-released CD, Lotus, that she said she read the execs the riot act.
"I told them...'You are working with a fat girl. Know it now and get over it.' They need a reminder sometimes that I don't belong to them. It's my body.
MORE ON:
hollywood happenings
Article continues below advertisement