The Fighting's Over! Chevy Chase Leaving 'Community'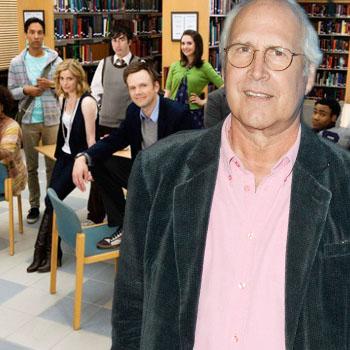 After months of publicly feuding with his producers, Chevy Chase is exiting Community.
To say that the former Saturday Night Live's three and a half year run on the sitcom was tumultuous is an understatement, and his departure is effective immediately.
As RadarOnline.com previously reported, Chase left a profanity-laced voicemail for Community's creator and show runner, Don Harmon, in March, which he then made public.
Article continues below advertisement
WARNING, THE AUDIO IS LITTERED WITH PROFANITY
And just last month, Chase had to apologize to his costars for using the N-word in another rant about how his character was being written.
In an interview with the Huffington Post at the time, Chase ranted that returning to the show for a fourth season was "a big mistake! I just sort of hung around because I have three daughters and a wife, and I figured out I might as well make some bread, every week, so I can take care of them in the way they want. The hours are hideous, and it's still a sitcom on television, which is probably the lowest form of television."